Station Mark 6
Wow Mark 6 and it's only been just about four weeks since I build Mark 1!, This time metal cabinet was sourced in order to house all this equipment in a nice way that would do the job whilst keeping all the equipment safe.
But I noticed the Wouxun that I'd used for Mark 2 was looking lonely on my desk…. It's a Dual Band 2m and 4m. Why not build it back in, After all I already have a CM108 modified for it, the appropriate cables made and I'd modified it to give the COS output.
Back to the ETCC I go….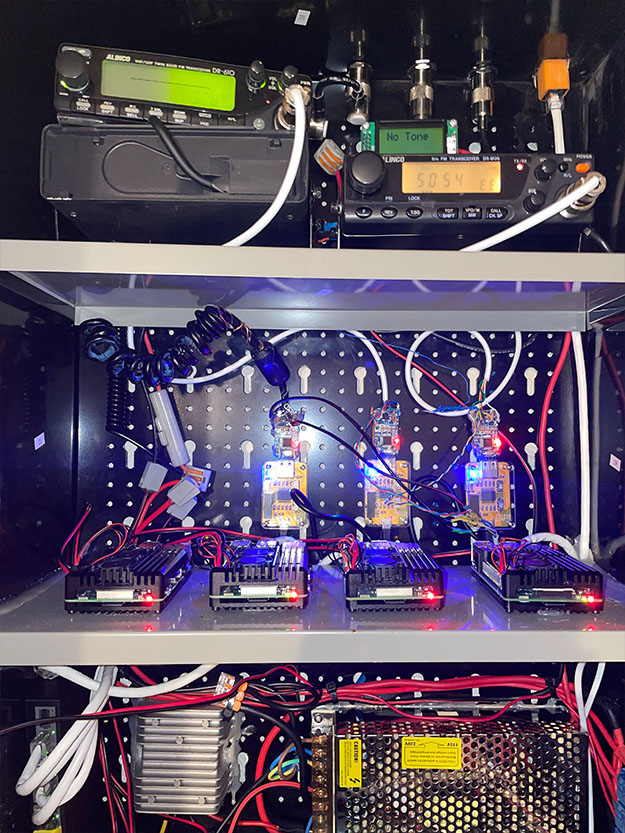 Having applied for multiple NoV's at this point I'm actually starting to get quite quick doing applications on the ukrepeaters site.
So NoV Application for 4m Gateway – Obviously it's Attended Ops only but I can work with that.
So the biggest build to date got started and took about 5 full days to build it all into it's new home, Antennas installed into my Roof space. A total of 4 Raspberry Pi's installed, One for each radio port and one as a Master Controller.
The Emergency Shutdown & Remote Kill system also got upgraded this time using an Arduino Mega & Arduino Yun Shield and a nice Nextion Display panel to give me a nice front panel Status Display for all the equipment inside the cabinet.
So there we have it, the quick story of my gateway (So Far).
Now online and Active on;
145.2875MHz - CTCSS 103.5
50.5400MHz – CTCSS 103.5
70.3875MHz – CTCSS 103.5
Echolink Node Number 459689
AllStar Node number 552480
A Big thank you must be given to the following, without their assistance, support and guidance this Gateway would not exist.
Steve at RSGB ETCC for helping me through all the NoV applications.
Oscar 2E1HWE & Bruce M0UKB for reaching out and getting me to join FreeSTAR
Shane M0VUB For answering my questions about DMR and System X
William GM0WUP (aka Dad) for the Alinco Radios & the not insignificant financial backing to get this running.
My Wife (Helen) who if it wasn't for her support and encouragement getting me to develop my skills and ideas. I wouldn't do a fraction of the things I do.