Station Mark 4
So now I had a successful, operational gateway. But like all true geeks, I never leave things alone when I should…. Afterall Technology is meant to be played with.
Changing Radio – The Wouxun was working well, however my father dug out his old Alinco DR-610 which he no longer used and he wondered if it would be of any use to me.
Back to Google we go........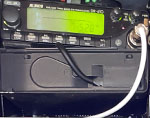 and its'nt amazing what Google Search can find when you need it... Presto the Service Manuals for the 610. At first I was really hopeful that other than making a new lead it would be Plug and Play. Actually, it almost was, The only difficulty was how to get a Squelch Signal output.
I eventually decided to take the radio apart and get at the CPU board that sits behind the Removable Front Control Panel and the main radio boards. On this board the CPU chip has two outputs for Squelch – Active Low type one for the Left Side and one for the Right Side. Some delicate soldering and I had my COS signal line. I will admit it's not perfect and I'll have to probably amend it at some point but it's working. So Alinco DR-610 now runs the 2m port.