Station Mark 3
For the Audio path - Well Mark 1 and 2 of MB7ISC was overkill and I had used a SignaLink USB interface box (initially purchased for my IC-706 which sadly has died). However with Mark 3 of MB7ISC now that I'd made the decision to use AllStarLink instead of OpenRepeater I needed to improve my soldering skills and take a different approach.
This time I went for the method recommended on the AllStarLink Website and modified a CM108 Soundcard Dongle. I'd forgotten how fiddly working with surface mount components was!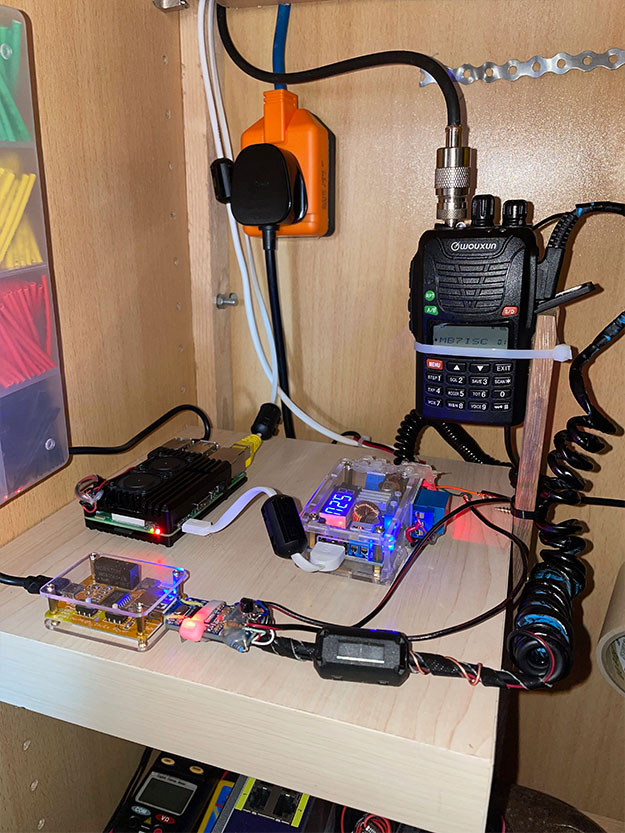 But after much careful work my new sound interface was ready.
The only problem I experienced is a really annoying buzzing being introduced to the TX Audio with the CM108, I'm confused as to why this was as everything is on a common earth but, it happened. However the quick addition of a USB Ground Isolator (thank you Amazon Prime) and the issue was resolved.
Once all of this was done we get to the last piece of the puzzle, What do we do with our new gateway to get the most out of it. For this I give full credit to Oscar 2E1HWE who got in contact with me when my NOV Application first appeared on the RSGB ETCC UKRepeaters website.

Oscar told me all about a network called FreeSTAR. A network that seemed to be a miracle in design in that they had not only a huge network of Simplex Gateways, but also repeaters and even more impressively they had 'bridged the gap' between many of the different digital communication systems now in use with Amateur Radio and so had links out to DMR, NXDN and more (see the FreeSTAR website)
So on 14th August 2021 MB7ISC officially joined the FreeSTAR network.!
Much to my surprise there was a popup net hosted by Bruce M0UKB that evening and it was fantastic fun, so many stations connecting across the globe it was wonderful.